5-Axis CMM Programming
Software Highlights – AUTOMATE – CMM PROGRAMMING
---
VERISURF 5-AXIS CMM PROBING & PROGRAMMING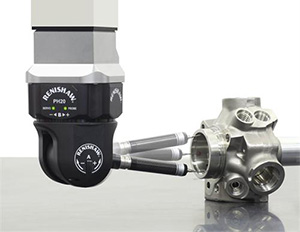 Along with modern CMM head, sensor, and controller technologies, new 5-axis pathing methods from Verisurf software deliver high-performance measuring speed and flexibility. Furthermore, it's achieved while avoiding the speed-versus-accuracy compromises inherent with conventional methods.
SPECIAL PROGRAMMING CAPABILITIES

Verisurf adds new and unique measurement techniques improving the speed and accuracy of 5-axis enabled CMMs.
Verisurf supports all standard 5-axis probing techniques. You can use the same program for either PH20 or REVO.
Pocket Scan is one of several scan techniques available with Verisurf 5-axis programming. See them all here.

Special Verisurf 5-axis programming features:

Five-axis motion allows the stylus to follow a continuous path along complex contours without leaving the part surface to index the probe angle or change the stylus. Controller algorithms synchronizing CMM and head motion, produce optimal probe paths that minimize dynamic errors.
There are extensive productivity gains offered by 5-axis probing, as it dramatically reduces the number of setups and special fixturing. It also allows fewer probe changes and requirements for unique probes, which are common in 3-axis probing.
For more information or a demonstration on this or other
Software Highlights
Contact Us