Simplifies part inspection through the comparison of measured points, clouds, and meshes, to all CAD file formats. Check part characteristics such as position and profile quickly and easily using a variety of alignment, analysis, and reporting techniques.
Analyze to CAD with imported data sets or directly from measured points, clouds, or meshes from 3D measuring devices including portable probing and scanning systems and both manual and CNC CMMs to analyze part tolerance compliance.
Automatically apply model-based tolerances from CAD product manufacturing information
Fast analysis of data to all CAD formats and entity types, with powerful and easy-to-use best-fit features offering extensive constraint options
Instantly identify quality issues with vibrant color deviation maps and create inspection reports in all common output formats
Data to CAD Analysis – Simplified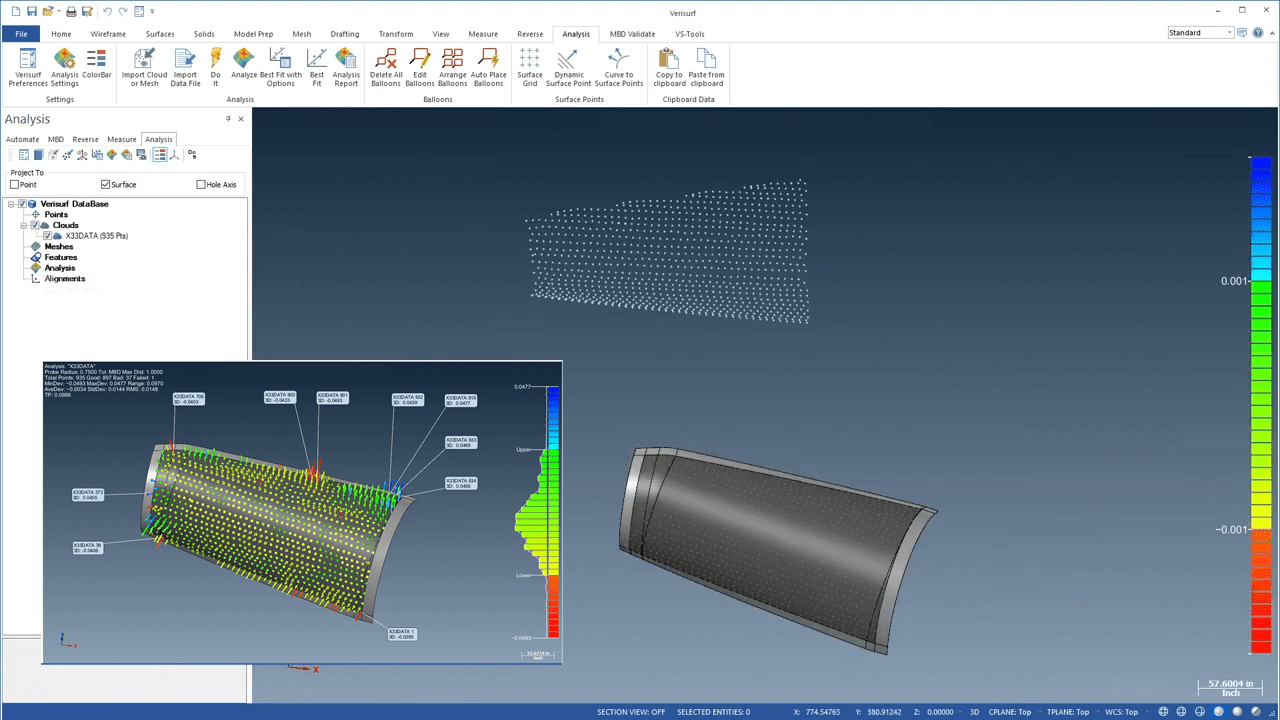 Fast compare of points, clouds, and meshes from any measurement system to any CAD format

Quickly check profile & position effortlessly

Intuitive workflow for easy alignment, analysis, and reporting

Easy to Align Data
Datum align, best-fit align, seed point align to CAD

Align multiple scans and meshes

Set relationships, use weighting for alignment and analysis


Datum align per GD&T designations
Graphics That Inform Good Decisions
Results can be displayed using a variety of graphical representations


Apply balloons, whisker plots, and color maps

Isolate or highlight out-of-tolerance areas clearly

Informative 2-dimensional cross section, commonly used for airfoil shapes

Powerful & Flexible Data Controls
Full control of the data, CAD, tolerances, and alignment, all easy to apply


Analysis to the closest entities is automatic, or easily assign relationships between data and CAD

Model-based tolerances can be utilized from source files or set from the Verisurf model
Best-Fit That's Advanced Yet Intuitive
Free-float data to CAD or fully control the restraints

Save parts from scrap by utilizing the full allowed tolerance range

Experiment with fit scenarios to aid in your manufacturing process analysis
One-Click Reporting
All report output formats

Pre-designed and customizable templates

Easy to choose what to report and what to summarize

Colorful, meaningful, and controllable graphical data display options
Learn more about ANALYSIS as part of the Inspection & Analysis Suite
ANALYSIS is at the heart of the Inspection & Analysis Suite, which includes these modules:
CAD – Verisurf's foundation module that includes a comprehensive computer-aided design system.
MEASURE – Interface to the CMM's control system, joystick measuring, reporting, Teach Mode, and more.
ANALYSIS – Analyze measured data to any CAD Model and create revealing inspection reports.