Measure part features and complex profile geometries informed by real-time deviation display between CAD and measured data for real-time decisions. Produce one-click inspection reports in standard or custom, shareable formats that feed to your quality management system.
The Measure module's device interface operates and optimizes most popular measurement systems making them more productive and ensuring a better return on your investment. You can also import externally captured data and process it against the nominal CAD model and tolerances. Even run datasets offline with feature extraction and pre-defined datums and constraints.
Easily automated inspection plans for repeatable device alignment, measurement, and reporting using semantic, associative model-based definition
Connect to multiple devices simultaneously and quickly switch between individual point probing, tactile scanning, and 3D non-contact scanning
GD&T (Geometric Dimensioning & Tolerancing) measurement simplified – apply callouts, associate feature relationships, and employ datum reference frame controls with only basic training
Measurement Flexibility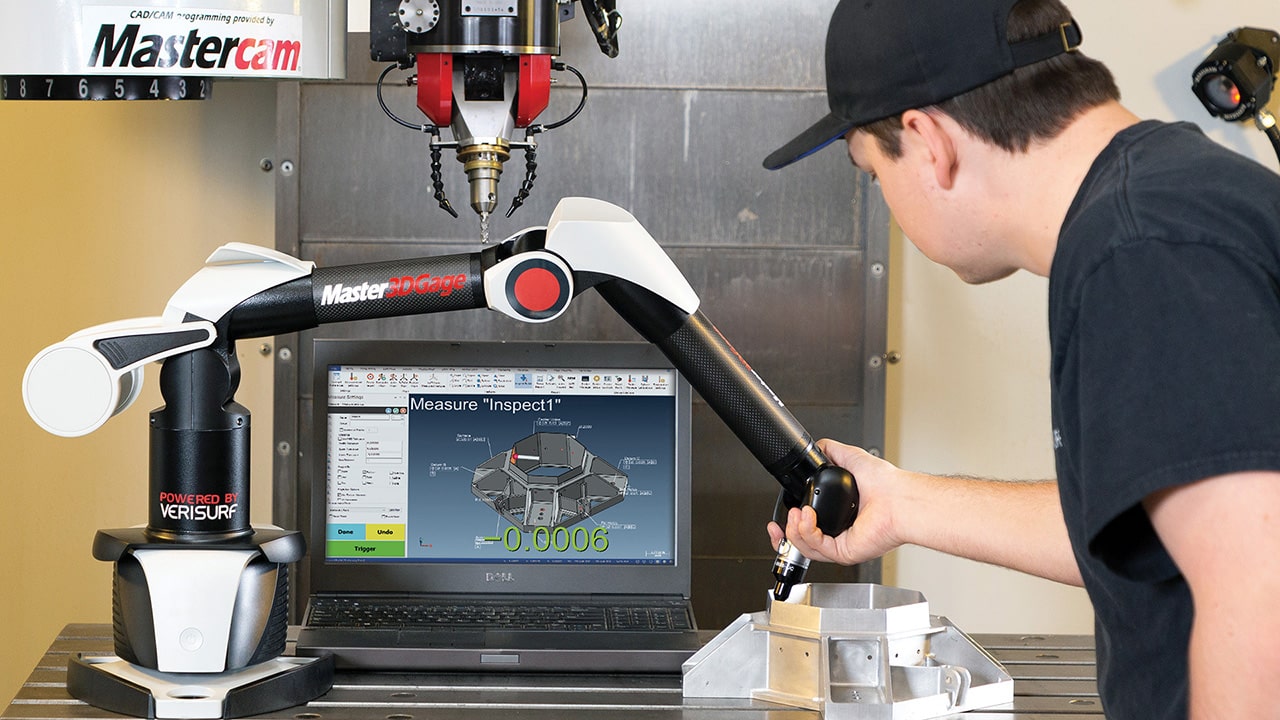 Intuitive, workflow-based environment enables fast inspection from both 2D drawings and 3D models

Rich, visual assist and feedback for real-time scrutiny of dimensions, profile, position, GD&T


Both single point probing and high volume non-contact scanning of large cloud datasets
One Software for All Devices
Operate and optimize multiple measuring devices simultaneously

Measure with any brand or model portable probing and scanning system, manual and CNC CMMs, and digital gages

Easily switch between single-point, continuous-point and point cloud scan modes

Fast Repeatable Alignments
Auto Align makes aligning easy, works exceptionally well on complex shapes, and lends an extra level of process control to the inspection

Feature Align makes it simple to align from measured features, guiding with visual cues that assist with the workflow

Alignments are saved in the CAD file to ensure part-to-part repeatability and to automate the procedure
Automated Inspection Plans
Inspection plans that can be used much like a playlist, that prompts the operator through the inspection

Plans are created quickly and easily by picking features and measurement controls from the part model, or with "Teach Mode," measure and playback

Adds process control for manual measuring devices, and plans can be easily adapted for motorized/automated machines
Quality Reporting
First Article Inspection Reporting for AS9102 and PPAP ballooned drawing forms

Intelligent GD&T, model-based tolerances applied to reports

One-click reporting from standardized templates or custom forms for output to all common report formats

Probe-Based Reverse Engineering
Measured features are automatically converted to CAD


Features can be saved as-measured or dimensions can be tweaked to the perceived design intent

Multi-edit saves time by allowing user to adjust several feature dimensions simultaneously
The Foundation of Real Time Measurement Suites.
Verisurf CAD and MEASURE modules are the online measurement foundation of Verisurf.
Once you have the basics of measurement you can add specialized modules for your specific Application Suite.