KEY BENEFITS
Verisurf MEASURE includes; the Verisurf Device Interface, Alignments, Auto Inspect and Report Manager. The Verisurf Device Interface (VDI) provides real-time connection to all popular measurement devices. Once connected creating repeatable alignments between measurement devices, CAD models and measured parts is fast and easy.
Directly measure features or complex profile geometries with real-time deviation display between CAD and measured parts for immediate feedback on part quality. Create detailed inspection reports in standard of custom formats and share them in HTML, Excel, and PDF formats or write results to popular first article or SPC quality management databases.
Automate device alignment, measurement and quality reporting of features to drawings or CAD with MBD.

Connect to multiple devices and quickly switch between point probing, continuous probing or 3D scanning.
Measure features, and right-click to turn them into CAD entities for probe-based reverse engineering.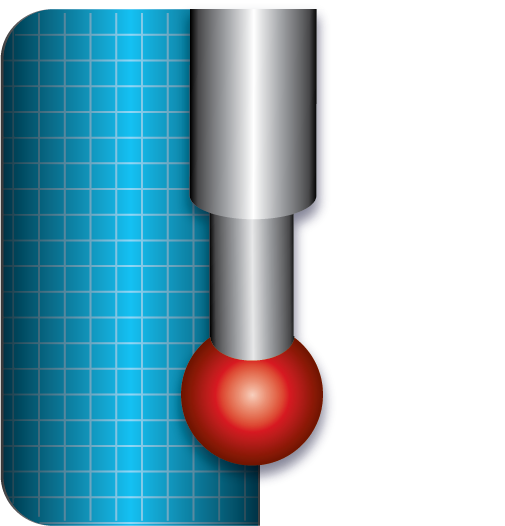 Verisurf Measure provides a complete set of simple yet flexible tools for print-based feature inspection and part-characteristic analysis.
Verisurf MEASURE includes the Verisurf Device Interface, Alignments, Auto Inspect and Report Manager.
Verisurf Device Interface (VDI)
The Verisurf Device Interface connects to and controls all supported measuring devices, including programmable and portable CMMs, laser trackers, optical trackers and scanners. With the VDI, you can quickly select and control multiple devices simultaneously. The VDI is a separate software installation and executable so device drivers can be updated more frequently.
Alignments
MEASURE has innovative alignment methods that make measurement fast and easy. Visual alignment targets automate the process so any alignment can be added to a measurement plan for repeatable results from different technicians.
Feature Align – Feature Align is used to align the part to the measurement device based on measured features and datums. Real-time visualization makes alignment easy to understand and to be learned by new users, ensuring accuracy.
Auto Align – Auto Align is used to align the device directly to the CAD model datums or discrete datum targets. It is preferred by many users due to its ease of use, accuracy, and the application of model-based definition (MBD). The Auto Align is saved with the CAD model and can later be played back for repeatable process control.
Auto Inspect
User-prompted, software automated inspection routines can be automatically created in "Teach Mode" or by picking features in CAD. No complex coding is required. Part programming that takes hours with other software can be done in a few minutes with Auto Inspect. The automated plan is saved as part of the CAD model and does not require creating and keeping track of a separate job file.
Auto Inspect is a great way to ensure process control for inspection while enhancing productivity and preventing measurement errors and omissions. Manual inspection plans can be adopted to run CNC CMMs with just a few simple modifications, giving you the option to use the plan on your fixed or portable CMMs.
Report Manager
Verisurf's primary interface for setting up and creating inspection reports. It provides easy to follow formatting of your inspection results, set relationships and nominals, set GD&T calculations, and control the visual output of the inspection report. Report Manager provides several different display and output formats such as PDF, html, Excel, and export to database.
Report Manager is tied directly to Auto Inspect and Automate for portable and fixed CMMs respectively. Any change to settings, selections and relationships in Report Manager will take effect in Automate/Auto Inspect and vice versa.
Export of CAD surfaces, solids, wireframe curves, and meshes is automatic. Measured features can be exported as CAD entities capturing the "as-built" geometry, or they can first be "normalized" for design intent and then exported. Neutral file export formats include IGES, STEP, Parasolid, AutoCAD .dwg, & .dxf, ACIS .sat, VDA, .stl, .3mf, and Mastercam. Proprietary file optional add-ons are available for CATIA V4 & V5. New for version 2023, files can be saved as .3dxml, .amf, .obj., and 3D pdf.
The Foundation of Verisurf Application Suites
Verisurf CAD and MEASURE modules are the online measurement foundation of Verisurf.
Once you have the basics of measurement you can add specialized modules for your specific Application Suite.