Verisurf Software and SMARTTECH3D Announce Solution Partnership
3D Scanning to Inspection, Reverse Engineering to Intelligent CAD
Photo Caption: SMARTTECH3D end-to-end 3D scanning solutions includes SMARTTECH3D scanners, Verisurf Software, installation, training, and technical support services for 3D scan-to-print, quality inspection and reporting, and reverse engineering to intelligent CAD applications.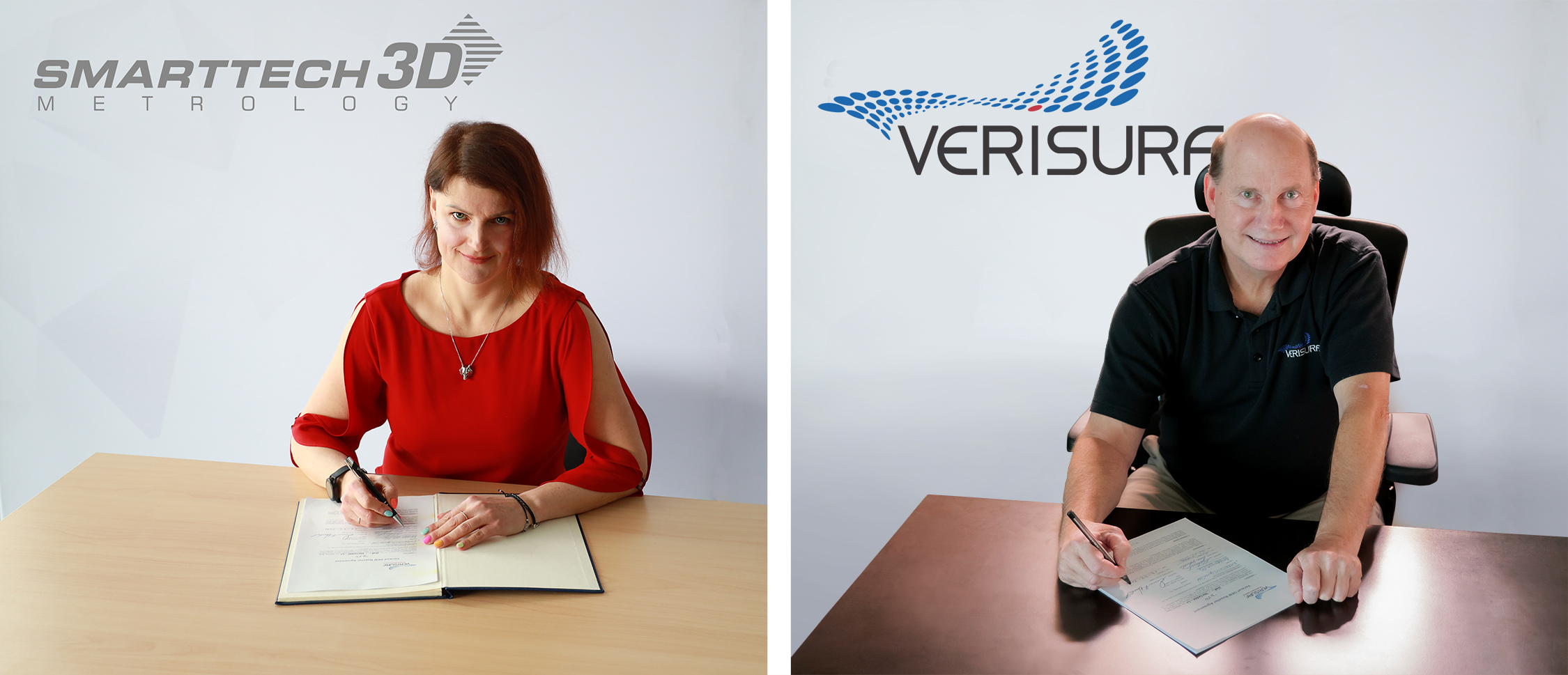 Photo Caption: Anna Gebarska, Managing Director of SMARTTECH3D and Ernie Husted, President and CEO of Verisurf Software conduct virtual signing of the agreement via online video meeting in Warsaw and California respectively.
Anaheim, Calif., May 7, 2021
Verisurf Software, Inc. has partnered with SMARTTECH3D, Lomianki/WARSAW, Poland, to offer metrology customers, worldwide, comprehensive end-to-end solutions for 3D scan-to-print, quality inspection and reporting, and reverse engineering to intelligent CAD. Under the partnership agreement SMARTTECH3D will offer complete 3D scanning solutions including SMARTTECH3D scanners, Verisurf software, installation, training, and technical support services.
SMARTTECH3D color scanners are portable and can be used in the quality lab, on the shop floor, or in the field.  The high-resolution precision scanners collect information about complex structures that were difficult to scan until now, like highly reflective surfaces or dark objects, ceramic ornaments, clothes, or oil paintings. When combined with optional shadowless lighting, the system provides the possibility to obtain actual color information in high resolution.
"Our high resolution structural light scanners are focused on collecting precise geometry and color data.  When it comes to processing and analyzing that data, we feel Verisurf provides most comprehensive set of applications, all of which are based on a powerful CAD platform.  This is both unique and extremely customer focused," said Anna Gebarska, Managing Director of SMARTTECH3D.
SMARTTECH3D dealers are now able to provide customers with complete end-to-end scanning solutions and provide added customer value through software training, maintenance support and metrology integration across the manufacturing enterprise.  With the Verisurf Software Development Kit (SDK) dealers, systems integrators and customers alike have access to a flexible programming environment specifically designed for creating customized dimensional metrology applications that enable manufacturing automation.
"Capturing good data is paramount to all application processing that follows.  At Verisurf we pride ourselves on being able to apply measurement data effectively to inspection and reporting, reverse engineering, and assembly guidance applications.  Our Solution Partnership with SMARTTECH3D provides customers, worldwide, with a best-in-class scanning solutions that are easy to use and based on an open CAD platform," said Ernie Husted, President and CEO of Verisurf Software, Inc.
Verisurf Software SCAN DATA SUITE for SMARTTECH3D includes Verisurf CAD, ANALYSIS and REVERSE modules:
CAD is at the foundation of all Verisurf applications and supports 3D wireframe modeling, 3D surface modeling, 3D solid modeling and 2D drafting. Model-Based Definition (MBD) – includes ISO 10303 & ASME Y14.5 compliant 3D model associated GD&T creation and editing. TOOLS for model-based metrology including auto flip surface normals, auto hole axis finder, screen shot grabber, 3D-PDF and more. Import files in ACIS, AutoCAD, Inventor, IGES, KeyCreator, Parasolid, Rhino, SolidEdge, SolidWorks, Spaceclaim, STEP, STL, VDA formats. Export files in ACIS, AutoCAD, IGES, Parasolid, STEP, STL, VDA file formats
ANALYSIS module includes fast best fitting of measurements to 3D CAD model nominal. Analyze points-to-points, points-to-curves, points-to-surfaces or points-to-meshes and communicate results with color deviation maps, whisker plots, custom ballooning, and reporting
REVERSE is set of powerful tools to reverse engineer scan data into fully closed mesh surface models ready for 3D Printing, Additive Manufacturing and Solid Modeling. Imports, edits, and exports massive point clouds and STL meshes. Extensive mesh alignment, filtering, smoothing, mesh bridging, hole filling, edge extending, and trimming, and slicing. Create NURB surfaces by sketching or projecting curves onto mesh or with intelligent prismatic feature fitting and auto surfacing
The SCAN DATA SUITE is also available with QUICK SURFACE, a powerful option for Verisurf Reverse that efficiently creates smooth, high-quality surfaces from meshes derived from scan data or STL files. Quick Surface maintains curvature continuity between adjacent surfaces and is ideal for digital surface modeling and creating smooth, high-speed toolpaths.
About Verisurf
Verisurf Software, Inc. is a measurement solutions company committed to delivering advanced surface analysis, quality inspection, assembly guidance, and reverse engineering.  Verisurf products and processes are vital to maintaining a digital thread between design, engineering, manufacturing, and finished part validation.  Based on a powerful CAD platform, Verisurf is committed to digital Model-Based Definition (MBD), open standards, and interoperability with all coordinate measuring machines and CAD software. Verisurf solutions help manufacturers produce higher quality products in less time.  For more information about Verisurf, visit www.verisurf.com.
About SMARTTECH3D
SMARTTECH3D is a recognized Polish manufacturer of optical 3D scanners in the world. Since over 20 years of its presence on the market, the Company has been focused on delivering metrologically tested 3D scanners for education, industry and museums. SMARTTECH3D offer includes a full range of professional non-contact measuring devices for various applications, quality control, and reverse engineering software. SMARTTECH provides design-implementation services for advanced machine vision systems and expert 3D measurement services. Satisfied customers include NASA, Boeing, Lufthansa, Orlen, KRONES, Polish Central Office of Measures, US Army, National Museum of Prehistory in Taiwan as well as many Universities around the world.  www.smarttech3d.com