Fast Answers to Verisurf Questions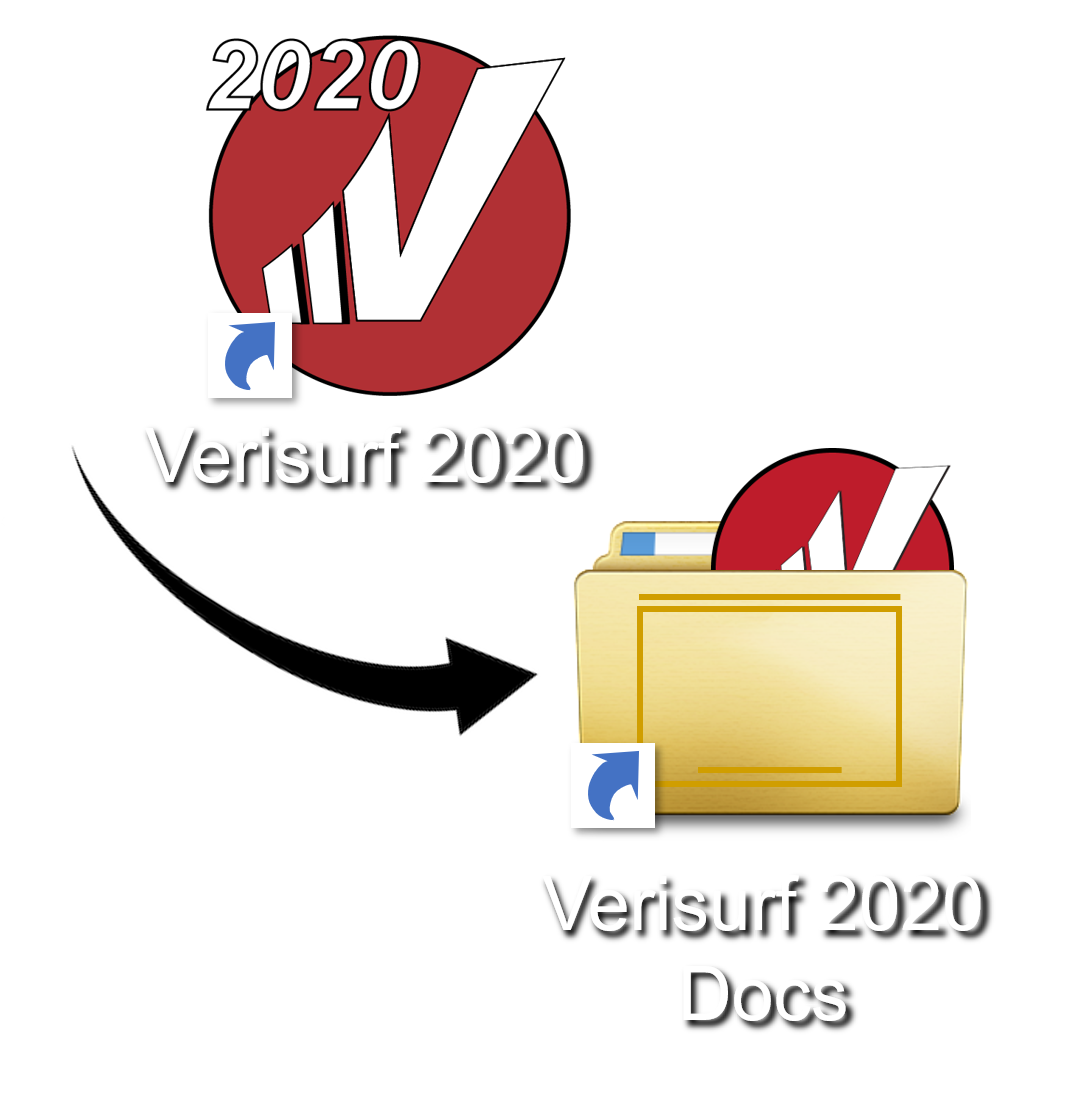 Verisurf documentation is conveniently
accessible anytime from the Verisurf Docs
folder located on your PC desktop by default
Verisurf Book of Tech Tips

Verisurf Release Notes

Verisurf System Admin Guide

Verisurf Alignment

Verisurf Analysis

Verisurf Auto Inspect

Verisurf Automate

Verisurf Device Manager

Verisurf Fundamentals

Verisurf MBD

Verisurf Measure

Verisurf Moldplus CAD Translator

Verisurf Moving the Device

Verisurf Power Surface

Verisurf Preferences

Verisurf Quick Surface

Verisurf Report Manager

Verisurf Reverse

Verisurf Tools

Verisurf Validate
As of the release of Verisurf 2020, the Verisurf 2020 Docs folder contains the Reference Guides and other support documents listed above. Each document is stored as an individual PDF file.
The easiest way to get your Verisurf questions answered fast is to familiarize yourself with the location, organization, and use of Verisurf's technical documentation resources. Verisurf maintains a complete set of these resources accessible to you with just a few mouse clicks. Foremost among these is the Verisurf Reference Guide. Logically organized as a set of manuals corresponding to the major functional areas of Verisurf, all Verisurf Reference Guides are located in a folder named Verisurf 2020 Docs. This folder appears on your PC desktop (by default) as a component of any new Verisurf installation. Running the Verisurf Updater (under Start/Verisurf 2020) will automatically update the reference guides stored in Verisurf 2020 Docs folder if any technical documentation revisions are available in the update.
Please pay particular attention:
Verisurf Book of Tech Tips
The Book of Tech Tips document includes dozens of illustrated examples that show you how to perform commonly encountered Verisurf tasks step-by-step. If you're not sure how to accomplish a particular task, the odds are pretty good that you'll find a how-to example in the Book of Tech Tips.
Verisurf Release Notes
Release Notes communicate new and improved functionality in the current release. Review these notes first whenever a new version or update becomes available and you download and install it onto your computer.
Verisurf Fundamentals
A great place to get started on your Verisurf journey without getting overwhelmed. This guide will orient you to Verisurf's user interface, functional organization, basic operation, and available support resources. The Verisurf Fundamentals Guide is an excellent first read to get a high-level overview of the Verisurf portfolio of metrology software applications.
Search Across All Reference Guides
Not sure which Reference Guide (or related) document in the Verisurf 2020 Docs folder contains the information you new? No problem; just open any PDF document in the folder and enter Ctrl-Shift F. The dialog (right) will display allowing you to search for a feature keyword or phrase across all documents in the Verisurf 2020 Docs folder. All instances of your search term(s) (and the document where they are located) will be displayed for your review.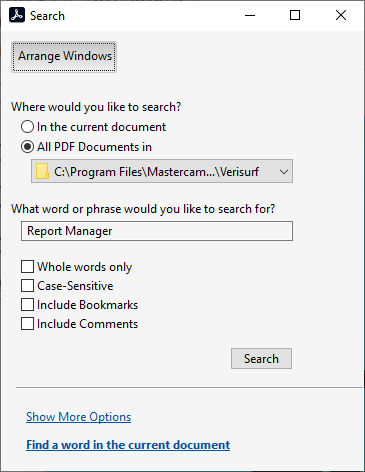 Verisurf Software, Inc.
Verisurf Software, Inc. is an advanced three-dimensional measurement solutions company committed to delivering advanced computer-aided inspection and reverse engineering solutions. Verisurf software helps manufacturers of all sizes and industries produce higher quality products in less time and at a lower cost with automated, Model-Based Inspection processes. For more information, visit the Verisurf website at https://verisurf.com.