MTT Students Inspecting Parts
using Verisurf Software
By Verisurf Software, Inc.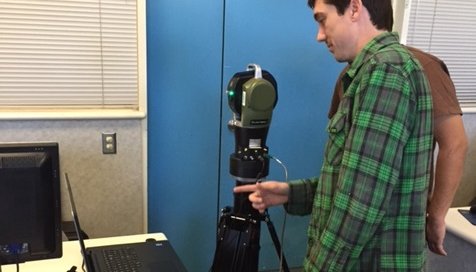 Photo: Ayaz Patel, aerospace machinist was being instructed by Curtis Husted, tooling metrology specialist and part-time instructor at Cerritos College.
Saturday morning, Cerritos College MTT168 students in Cerritos, CA were laser tracking an aerospace part to learn advanced aspects of the Verisurf software. The API laser tracker in the photo was obtained from enhancement funds provided by the chancellor's office of the California Community Colleges.
Verisurf Software, Inc.
Verisurf Software, Inc. is an advanced three-dimensional measurement solutions company committed to delivering advanced computer-aided inspection and reverse engineering solutions. Verisurf software helps manufacturers of all sizes and industries produce higher quality products in less time and at a lower cost with automated, Model-Based Inspection processes. For more information, visit the Verisurf website at https://verisurf.com.