Software Highlights – CMM Programming
CUSTOM CLEARANCE

---
Custom Clearance CMM Path Feature
This tool is part of the clearance controls in the generate path feature. It includes independent and combined control over the probe clearance vector direction.
Simply click and drag anywhere inside the sphere to position the vectors to suit the geometry. Independently adjust the entry as well as the exit and use the new view to reset that vector direction.
The intuitive translucent sphere guidance tool is used to easily direct the entry and exit clearance vectors while the sphere diameter represents the entry and exit distance.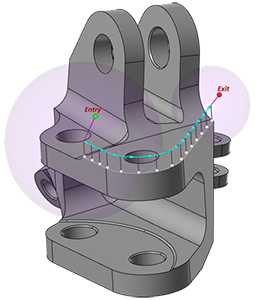 For more information or a demonstration on this or other
Software Highlights
Contact Us