CMM Programming & Inspection Suite
Significantly reduce inspection plan setup from hours to minutes with almost no learning curve. Use on any CMM in a revolutionary, click-and-build visual interface.
SCHEDULE A DEMO
VIDEO OVERVIEW
WHAT MAKES US DIFFERENT
Quickly learned and retained by new users thanks to intuitive user interface with rich visual experience.
Automate quality processes with repeatable measurement plans for any portable, manual or programable CMM.
Teach programs or create them from CAD for measurable reduction in programming time and process execution.
Run CMMs with Renishaw, Mitutoyo, Hexagon, Zeiss, or Pantec controllers, create reports and connect to quality databases.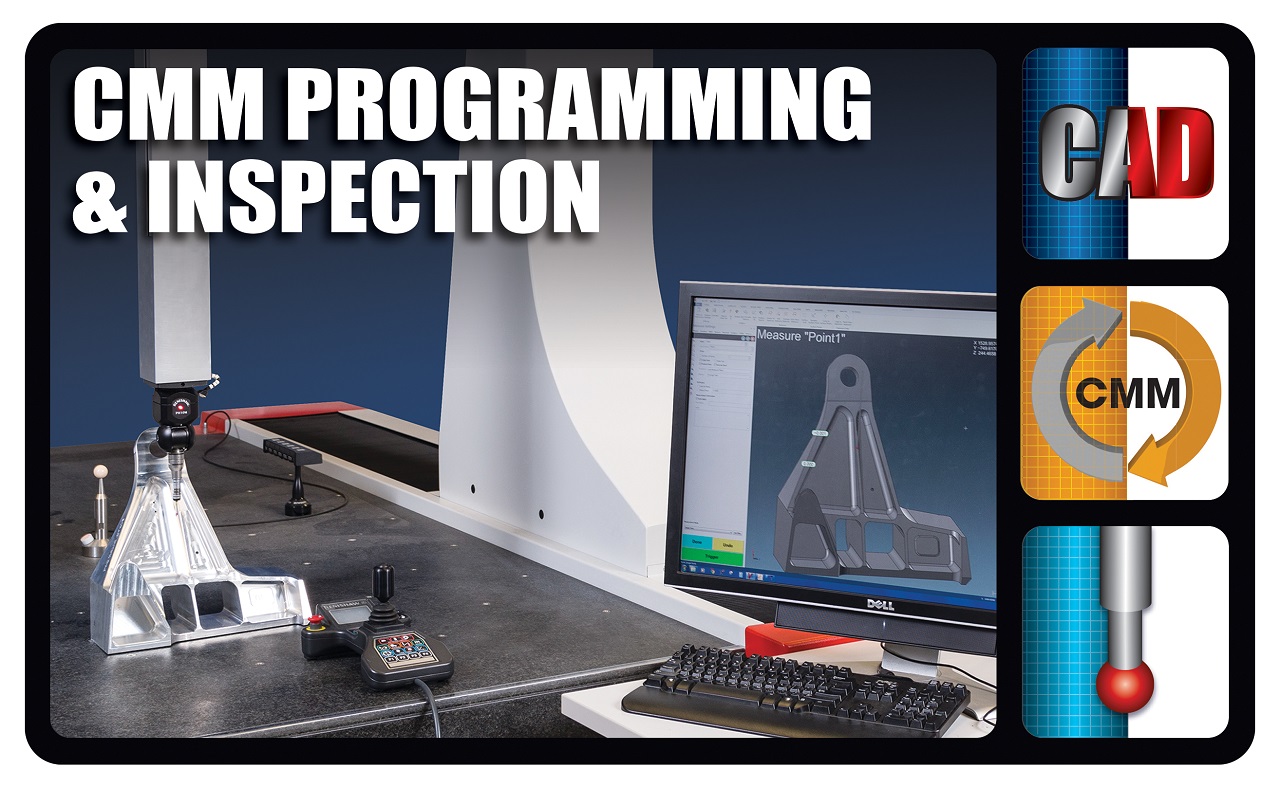 EXPLORE BENEFITS & FEATURES
How we help you program, measure, report and communicate.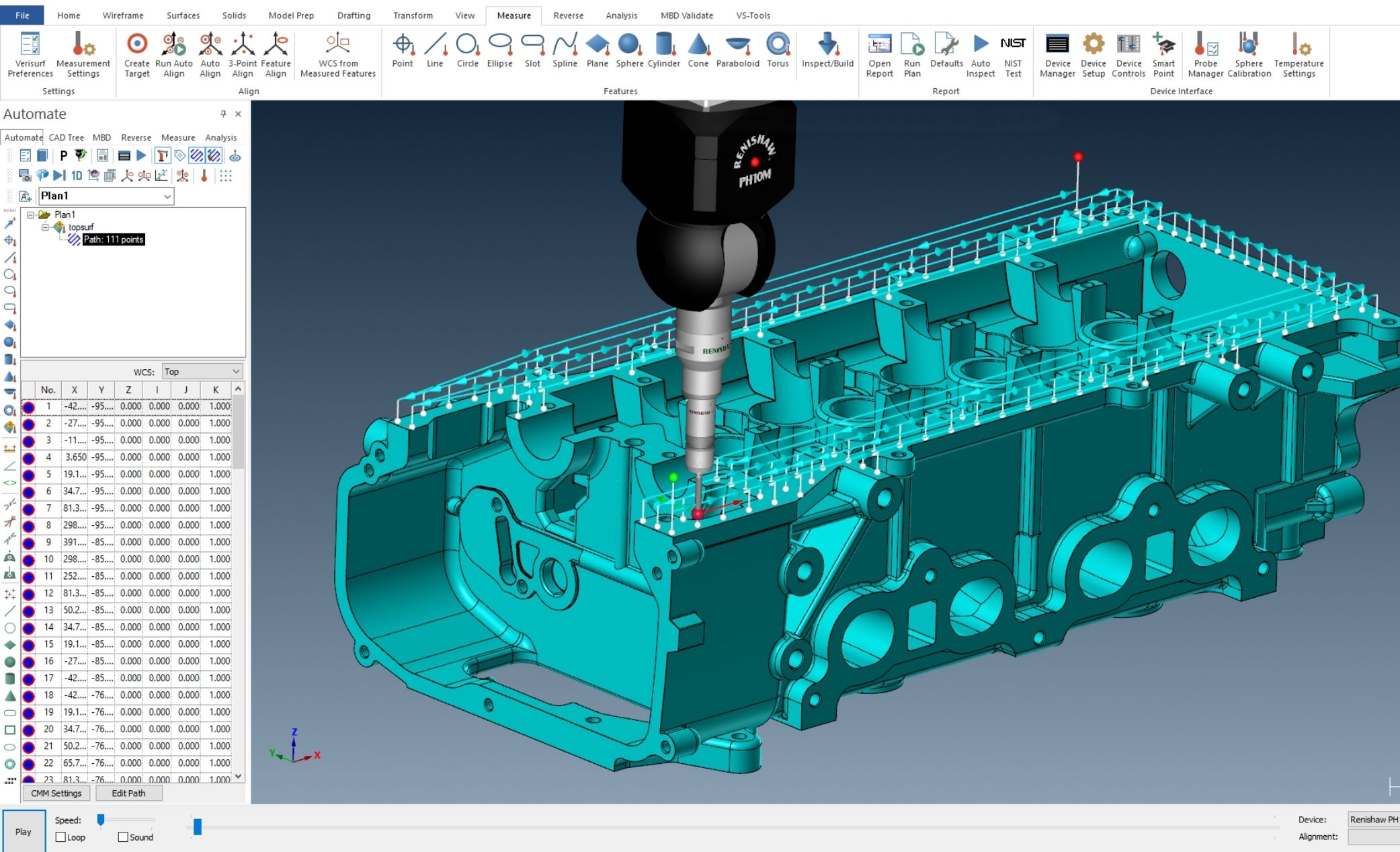 Open System Freedom
Intuitive user experience makes it easy to learn, remember and support.
Model Based Definition speeds tolerancing, programming and reporting.
Create repeatable measurement programs for scanners, manual, portable or CNC CMMs.
Measurement device freedom eliminates bottlenecks and lowers costs.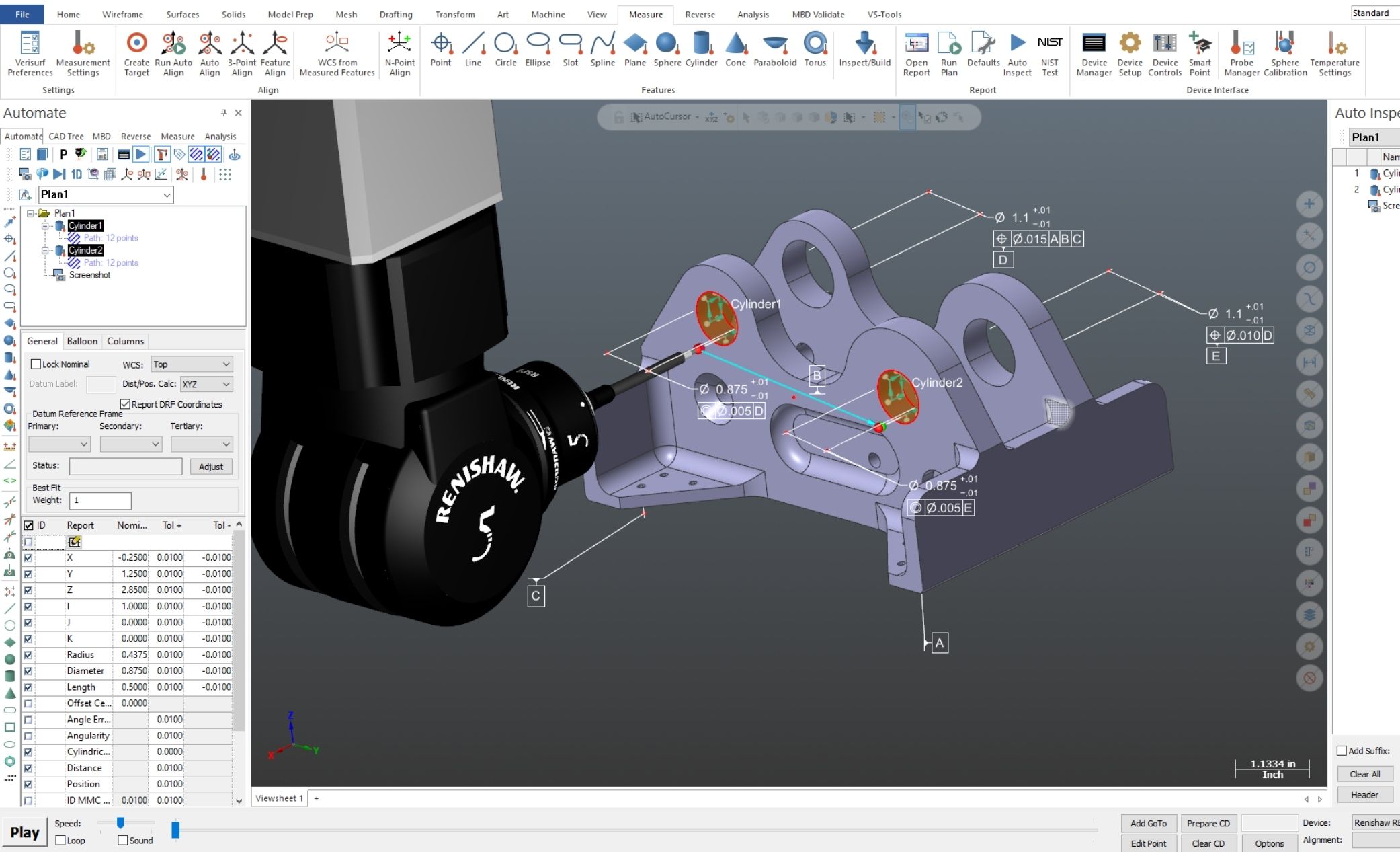 Object Oriented Programming
Create programs in Teach Mode or by selecting CAD surfaces, points and features.
Intelligent probe management including indexing and racks.
Dynamic path visualization, simulation and editing for collision avoidance.
Support for 3-axis and 5-axis, touch trigger and tactile scanning probe systems.
Connect & Operate CMMs
Standard communication protocols and formats include:  Renishaw UCCserver™, I++ DME, DMIS, and G-Code.
Optional Universal CMM software to run proprietary controllers from DEA, Leitz, Mitutoyo, Hexagon, Zeiss, Wenzel, LK, Nikon, and Pantec. Optional error mapping to compensate for geometric, volumetric, orientation, positioning, and kinematic errors.
Quality Reporting & Communication
Create rich inspection reports with standard or custom formats with your branding.
Quickly identify quality issues and export or write measurement data to quality management systems for immediate notification.
Automate first article inspection reports or production inspection with statistical process control and real-time quality dashboards.
Advanced Probing Powered by Verisurf Software
Verisurf supports 5-Axis CMMs with unique motion control techniques and advanced Surface Finish Probe (SFP) and REVO Ultrasonic Probe (RUP) sensors.
CMM SOFTWARE UPGRADE JUSTIFICATION
Upgrading your CMM with Verisurf Software is the best decision you can make. A quick and easy software upgrade makes your CMM more reliable, useable, scalable, and sustainable. Take control of your quality process with more choice and better support.
Management Justification
CMM Programming Highlights
A collection of articles outlining various CMM programming software highlights, including features & advancements in Verisurf software.
All CMM Programing Highlights
SOFTWARE OPTIONS
Complementary options for CMM Programming & Inspection
Available as Offline Suite
Create CMM programs offline on a stand alone workstation. Transfer programs to your CMM's connected PC for the quick final touches before commencing production runs.
Program CMM and simulate paths offline, anywhere.
Reduce CMM idle time with offline programming.
Increase productivity of CMM capital equipment.
Review, edit and print quality reports offline, anywhere.
What our CMM Programming & Inspection Suite
customers have to say