Colorize Mesh and Smooth Mesh Edges
Software Highlights – REVERSE
---
COLORIZE MESH
Colorize is used for display purposes only, not intended to determine Pass/Fail results of measurements.
Heat Map for clouds and meshes – colorizes the mesh dependent on where the operator clicks on the mesh.

Edge Heatmap – colorizes based on the min and max values in the colorize dialog.
When two or more meshes have the same number of faces, additional Colorize options are now available; Difference (use after Flatten Mesh) and Transfer (transfers colors from one mesh to the other with the same number of faces).
---
MESH TOOLS – SMOOTH EDGES
Piecewise Fit – choose from Line, Quadratic Spline, and Cubic Spline.

Search Distance – the distance used for fitting the new edges; larger values create a larger radius in corners.

Iterations – Number of calculations for fit.

Dynamic Preview – when enabled (smooth button is disabled), the smooth edges appear as search distance is




changed.

Create Copy – saves a copy of the mesh.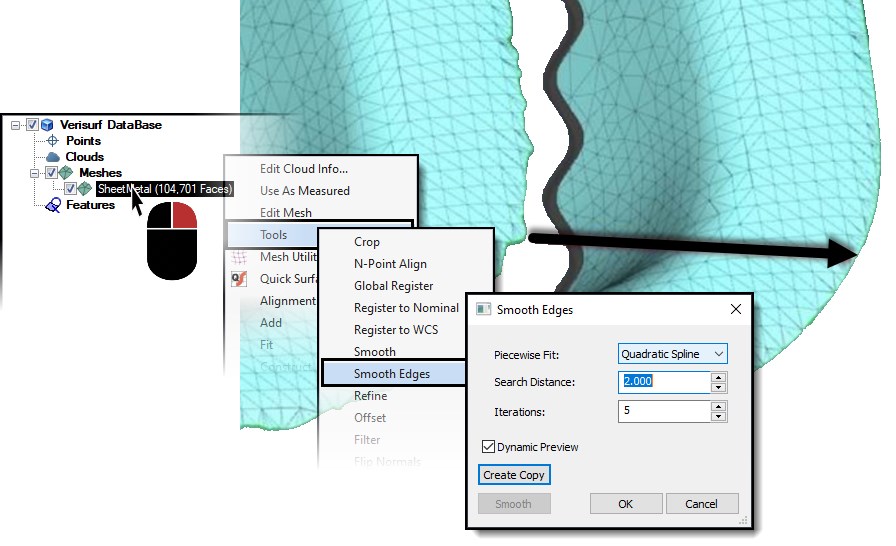 For more information or a demonstration on this or other
Software Highlights
Contact Us