Verisurf Model-Based Definition (MBD)
Create associative 3D GD&T on your CAD models and manage imported MBD annotations throughout the inspection process.
Verisurf MBD allows you to import or edit CAD models with model associative ASME Y14.5-compliant GD&T callouts including manufacturing data, dimensions, and freeform notes.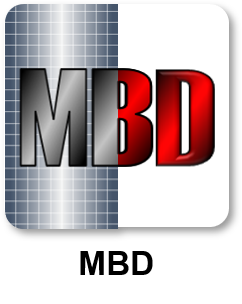 Verisurf MBD allows operators to display intelligent, 3D GD&T data imported from CAD systems. If a model does not already include GD&T information, Verisurf MBD enables the manual annotation of your model with datum references, dimensions, surface boundaries and axis methods of interpretation, profile tolerances, symbology and modifiers, and alphanumeric notes. Callouts are attached to the 3D model features and move dynamically with changes to model orientation.
MBD annotations are visible across all Verisurf modules including CAD, Measure, Build, Analysis, Reverse, and Automate to assure parts meet intended form, fit, function, and assembly criteria. The persistent availability of this information, throughout manufacturing and inspection workflows, assures that inspection planning, measuring, and reporting are simple, fast, effective, and error-free.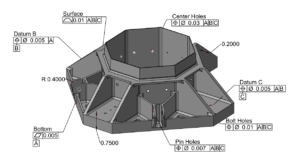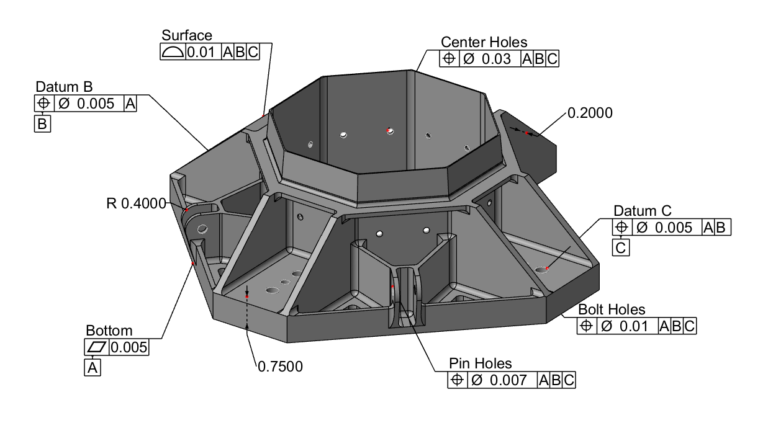 Example GD&T display using Verisurf MBD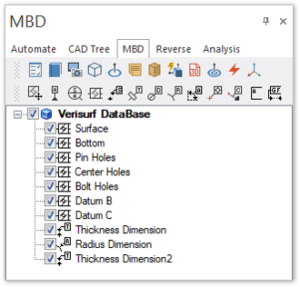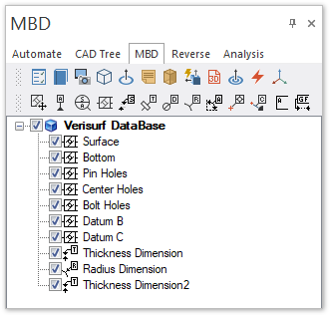 Verisurf MBD Operations Manager top menu and data tree
Verisurf Software is pleased to make Verisurf MBD available to Mastercam customers at a very affordable price. Click the button below to request a quotation for Verisurf MBD now:
Request a Quote