peel 2 Scanner
Accurate handheld scanner for fast and easy data collection. A next-generation companion to Verisurf software for digitizing/reverse engineering & high volume pointcloud inspection.
KEY BENEFITS
The peel 2 scanner is fast and extremely easy to use, offering a scan rate of up to 550,000 measurements per second with an accuracy of up to 0.250 mm (0.01 in).
With this rugged 3D scanner, you can tackle complex projects and take advantage of higher measurement resolution, color capture, enhanced tracking, and enhanced geometry capture.
The peel 2 scanner works seamlessly with Verisurf in a single, integrated workflow. Bundle the scanner with several different Verisurf Scan Data software suite configurations depending on your usage requirements or coordinate with your Verisurf representative to define a software configuration that best suits your unique situation.
Fast, easy plug and play 3D SCAN-TO-CAD with Verisurf Software connect integration.
Complete reverse engineering solution for complex applications such as automotive aftermarket, clay model sculpture capture and biomedical prosthetics.
Powerful mesh editing and solid modeling with optional "Quick Surface" class A surfacing. Click for details on Quick Surface here.

Reverse Engineering Solution
Everything you need to efficiently perform common 3D scanning and reverse engineering tasks using high-quality, handheld scanning hardware – seamlessly integrated with Verisurf's industry-leading Scan Data and Reverse Engineering Suite.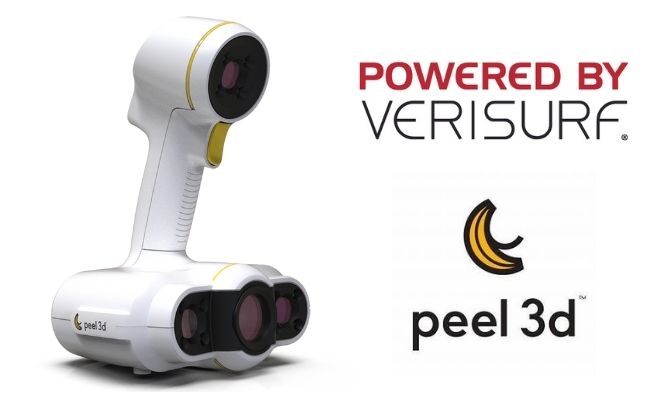 peel 2 Scanner Applications
The peel 3 scanner paired with the Verisurf Scan Data Suite offers the ultimate flexibility to support both scan data reverse engineering and inspection workflows.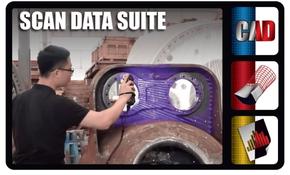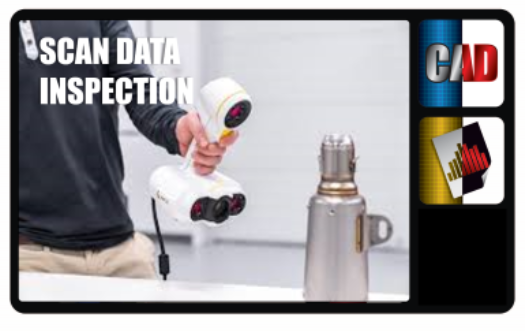 Pair your peel 2 scanner with the Verisurf Scan Data Inspection Suite. This combination of scanner hardware and software integrates Verisurf's CAD and ANALYSIS modules to tackle inspection challenges using imported pointcloud data. Easily import scan data collected with your peel 2 scanner to automatically analyze, extract, and compare features to CAD nominal with intelligent GD&T. Save reusable, automated inspection plans to support high-volume production.
Reverse Engineering and Inspection
For general purpose scanner applications, the peel 2 scanner paired with the Verisurf Reverse Engineering and Inspection software suite offers ultimate flexibility to support any workflow. Quickly generate detailed reports and colored model plots that illustrate conformance and/or deviations between scan data and the original or reverse-engineered CAD model based on tolerance limits with interactive GD&T.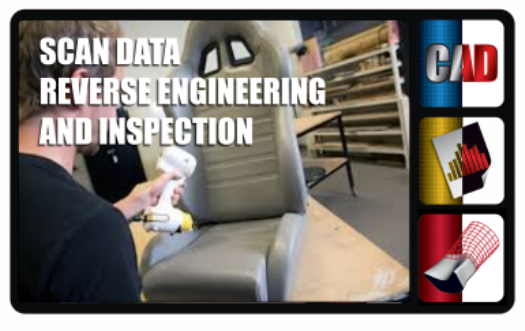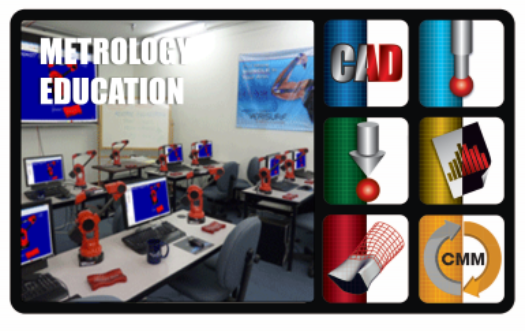 The Metrology Education Suite for educational institutions includes all Verisurf modules at pricing considerably less than commercial levels. Exclusively for the needs of technical educators and their students, the Metrology Education Suite presents students with the opportunity to develop the metrology skills employers seek.
The Verisurf Metrology Education Suite is a premium software bundle suitable for performing a broad spectrum of metrology tasks. It is the logical next step to extending popular CAD/CAM training programs to include reverse engineering, tool building, and inspection skills development.  Import all common 3D geometry file types, connect to any available scanner, fixed or portable measuring device, or work offline with imported point cloud or mesh files. Can be used for both scan- and probe-based inspection, tool-building, reverse engineering, CMM programming, guided assembly, and more. The Verisurf Metrology Education Suite has it all.
peel 2 Scanner Specifications
Install and Configuration