KEY BENEFITS
Verisurf Reverse is a complete Reverse Engineering (RE) solution offering many robust, powerful and innovative tools to create CAD models from measured parts.
The Reverse module has an abundance of reverse engineering specific features complemented by a user interface that can be quickly learned by any engineer with basic aptitude of CAD in a 3D environment.  It includes tools that go well beyond what design-specific CAD platforms have for taking acquired data and turning it into a 3D model of something designed by someone else.  Whether it is dense or sparse data, Reverse puts all of the tools in one place to cleanup your data and turn it into a design-intent or as-built model, whichever is your goal.
If you need a STL mesh model for 3D printing or other additive manufacturing, or CAD solids for CNC programming, or you just want to create a 3D model of a part originally designed on a drafting table and need to convert it to something that can be used with modern manufacturing techniques, Reverse will give you the complete package for finishing the job quickly and accurately.

Software to simplify creation of 3D CAD models when one does not already exist.

Capture, digitize, normalize, scrub, smooth, and perfect three-dimensional data from any scanning/measuring device.
Intelligent pointcloud and STL polygonal mesh cleanup, decimation, filtering, and automation of otherwise complex tasks.

Full-featured 3D CAD solid and surface modeling system integrated with pointcloud and mesh metrology for NIST qualified feature extraction and integral GD&T.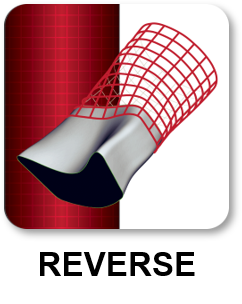 Re-engineer CAD surfaces, use AutoSurface to reverse engineer complex surfaces, or use mixed modeling to blend STL meshes, surfaces, and Download Reverse DS solids in one design. Working with measured data from any measuring device, Verisurf Reverse automatically creates surfaces, features, and planar, grid, or radial cross-sections on machined parts to create precise CAD models. Leveraging advanced tools, Verisurf Reverse creates and custom-fits lines, arcs, splines, planes, spheres, cylinders, freeform surfaces, and more. Providing a fully integrated, comprehensive solution, Reverse also creates meshes from point clouds in the form of an STL file for surface analysis or future tooling and machining.
QUICK SURFACE
With Quick Surface, it's a snap to produce freeform CAD surfaces from organic or prismatic Verisurf meshes and assess the surface-to-mesh fit quality prior to export for additional, downstream modeling or other processing. Quick Surface is an ideal enabler for scan-to-part or scan-to-3D-printing workflows.
Quick Surface creates smooth, high-quality surfaces continuous across adjacent boundaries suitable for downstream machining or 3D printing.
Learn More
High-Quality Surfacing of