Verisurf Software to Demonstrate Automated Measurement Solutions at Control 2022



May 3-6, 2022
Messe Stuttgart Exhibition Center
Stuttgart Germany

Visit Verisurf Software along with partners Blankenhorn GmbH in Hall 3 stand 3314

Inspection, Reverse Engineering, and Tool Building for the Manufacturing Enterprise

Stuttgart, Germany, May 3, 2022
Verisurf Software, Inc. with partner Blankenhorn GmbH is presenting automated measurement solutions at Control 2022, Stuttgart, Germany, May 3 -6, Hall 3, Stand 3314. Driving the solutions is Verisurf 2022, the latest release of the popular measurement software for automated quality inspection, reporting, scanning, reverse engineering, tool building, and assembly guidance. The software is powerful, flexible, and easy to use for measurement applications across the manufacturing enterprise.
Verisurf software speeds up automated inspection processes with fast, automatic feature recognition, and point-and-click programming of inspection routines; Verisurf also drives all manual and programmable CMMs through the Verisurf Device Interface (VDI). The software's modular design lets users quickly shift from inspection to reverse engineering, to tool building, efficiently capturing and processing contact probe points or real-time non-contact scan data at a rate of more than two million points per second. Block segmentation of point cloud data is then used for applications like facilitating extraction, fitting, analysis, and meshing.
These types of performance and productivity features make Verisurf 2022 the only inspection, reverse engineering, and tool building software in its class to offer one solution that supports the measurement needs of the entire manufacturing enterprise.
Verisurf is built on a CAD platform and uses Model-Based Definition (MBD), with the CAD model as the design authority. This improves process control and provides compatibility with virtually all CAD file formats. Combined with VDI, Verisurf supports and drives all portable arms, laser trackers, scanners, manual and programmable CMMs, and robots, through a common interface.
"Human and technology resource utilization improve substantially when all measuring devices can be operated with the same metrology software and skillsets; the result is a manufacturing enterprise measurement solution," said Kai Gaertling, Verisurf Regional Sales Manager, EMEA. "When shops run Verisurf software to drive all their measuring devices, managing resources becomes more efficient, training is more effective, and new performance and productivity features of the software become available to everyone, at the same time," added Gaertling.
Verisurf will be demonstrating various measurement, inspection, reverse engineering, and tool building applications during Control 2022, including:
Coord3 programmable CMM with Renishaw, REVO 5-axis measuring system
Robot-based 3D scanning, inspection, and quality reporting
Master3DGage portable CMM with an optional laser scanner
CMM Master, programmable, portable CMM solution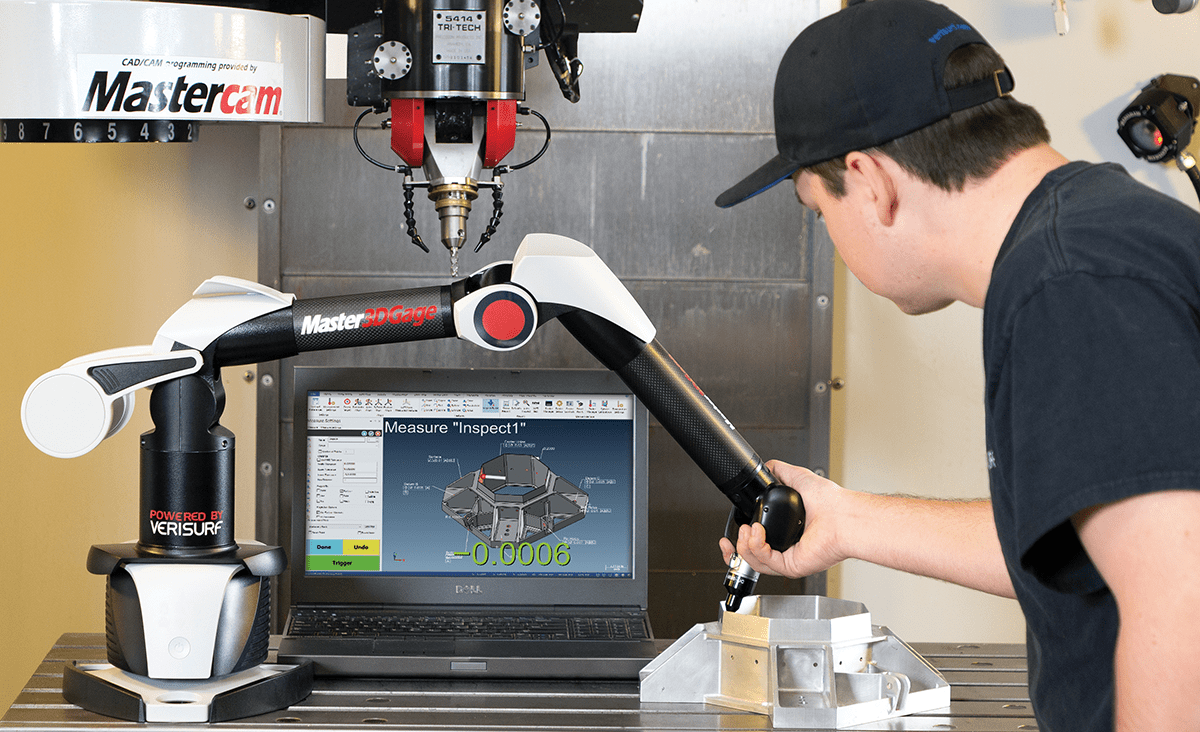 About Verisurf
Verisurf Software, Inc. is a measurement solutions company committed to delivering advanced surface analysis, quality inspection, assembly guidance, and reverse engineering. Verisurf products and processes are vital to maintaining a digital thread between design, engineering, manufacturing, and finished part validation. Based on a powerful CAD platform, Verisurf is committed to Model-Based Definition (MBD), open standards, and interoperability with all coordinate measuring machines and CAD software. Verisurf solutions help manufacturers produce higher-quality products in less time. For more information about Verisurf, visit www.verisurf.com.